Class 7 sanskrit chapter 10- विश्वबंधुत्वम् पाठ में हम लोग विश्व बंधुता के बारे में पढ़ने वाले हैं | विश्व बंधुता अर्थात विश्व भाईचारा | तो चलिए Class 7 sanskrit chapter 10 विश्वबंधुत्वम्पा ठ में exactly क्या है वही पढ़ते हैं-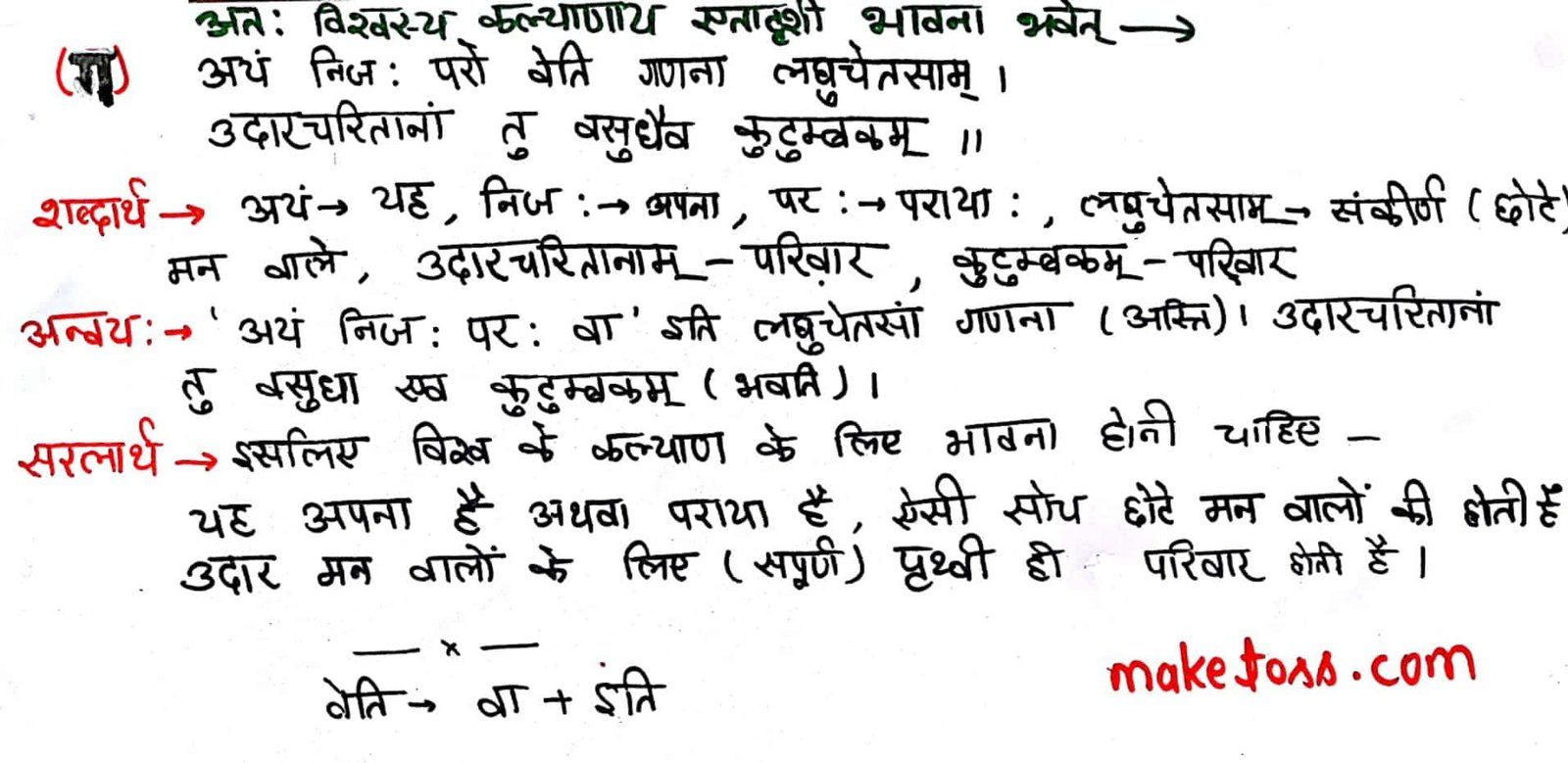 Download PDF of Class 7 Sanskrit chapter 10 विश्वबंधुत्वम् in only one click….click here
Class 7 Sanskrit chapter 10 विश्वबंधुत्वम्

Hindi Summary
किसी भी प्रकार के खुशी के अवसर पर , किसी के व्यक्तिगत संकट में , कहीं अकाल पड़ने पर, किसी देश पर आपदा आने पर और नित्य व्यवहार में जो सहायता करता है वह मित्र होता है | यदि सभी जगह ऐसे ही भावना हो जाए तब विश्व भाईचारा संभव है | लेकिन आजकल पूरे संसार में कलह और अशांति का वातावरण है | कोई मनुष्य एक दूसरे पर विश्वास नहीं कर रहे हैं | वे दूसरों को कष्ट पहुंचाते हैं और दूसरों के कष्ट को अपना कष्ट नहीं मानते हैं| समर्थ देश असमर्थ देश पर हमला करता है ,उनका अनादर भी करता है और उन पर अपना प्रभुत्व स्थापित करना चाहता है | इस पूरे विश्व में सभी जगह सत्ता की शत्रुता और हिंसा की भावना दिखाई पड़ती है | जिस कारण से देशों के विकास में बाधा उत्पन्न होती है | अगर सभी देशो को जल्दी-जल्दी विकसित होना है तो उनको एक- दूसरे के साथ शुद्ध ह्रदय से बंधुत्व का व्यवहार करना चाहिए | संसार के सभी मनुष्यों को एक दूसरे पर विश्वास करना चाहिए |अविकसित देशों को विकसित देशों का अनुसरण करना चाहिए और समृद्धि को प्राप्त करना चाहिए | हमें प्रकृति से सीख लेनी चाहिए | सूर्य और चंद्रमा अपना प्रकाश सभी जगह समान रुप से फैलाते हैं, इसलिए हमें भी सभी के साथ भाईचारे का व्यवहार करना चाहिए |
हम सभी को शत्रुता की भावना त्याग देनी चाहिए | इसलिए विश्व के कल्याण के लिए कहा गया है-" यह अपना है और यह दूसरे का है "ऐसी भावना छोटी मन वाले लोग रखते हैं , उदार मन वालों के लिए तो पूरी पृथ्वी परिवार है और इस तरह से पाठ ख़त्म हो जाता है |
Class 7 Sanskrit chapter 10 विश्वबंधुत्वम्

English Summary
On the occasion of happiness of any kind, in the person's personal crisis, where there is a famine, when a disaster occurs on a country and in daily practice, it is a friend. If there is such a feeling in all places then world brotherhood is possible. But nowadays there is an atmosphere of discord and unrest in the whole world. No humans are believing each other. They hurt others and do not consider the pain of others as their own pain. The capable country attacks the country unable, disrespects them and wants to establish their dominion over them. This world shows a spirit of enmity and violence everywhere. Due to which the development of countries is hampered. If all the countries have to develop quickly, they should behave with each other in a pure heart. All human beings in the world should believe in each other. Undeveloped countries should follow developed countries and achieve prosperity. We should learn from nature. Sun and Moon spread their light everywhere evenly, so we should also behave with everyone.
We all should give up the spirit of hostility. Therefore, it has been said for the welfare of the world – "It is its own and it is of the other." Such people keep a little-minded people, for the liberal minds, the whole earth is family and thus the text ends.
Must watch the above video for

ncert

exercise solution of Class 7 sanskrit chapter 10 विश्वबंधुत्वम्
Coming soon…..