CBSE Ruchira भाग 2 – Class 7 Sanskrit Chapter 11 – translation in Hindi (Hindi Anuvad), Hindi summary, English Translation, and English Summary are provided here. That Means, word meanings (शब्दार्थ:), सरलार्थ are given for the perfect explanation of chapter 11 समवायो हि दुर्जय:
समवायो हि दुर्जय: पाठ में हम लोग एकता की शक्ति के बारे में पढ़ेंगे कि एकता अजय होती है |एकता को कभी आसानी से हराया नहीं जा सकता है इसलिए एकता दुर्जय है | तो चलिए इस Class 7 sanskrit chapter 11 समवायो हि दुर्जय: पाठ को ही पढ़ लेते हैं और देखते हैं कि आखिर कहानी में हुआ क्या है ?
Translation in Hindi (Anuvad)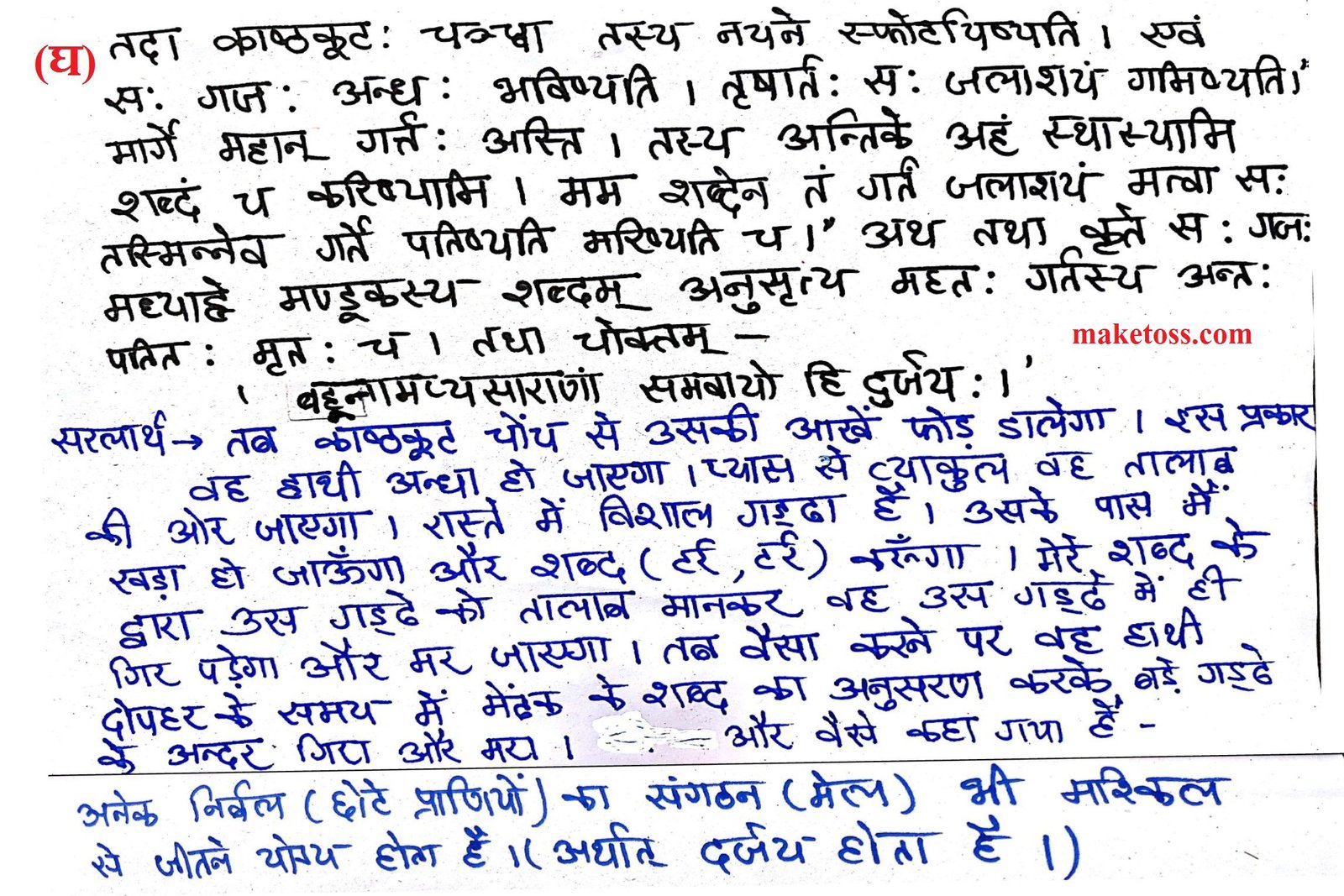 ---
Video for NCERT Exercise + Hindi translation
---
Hindi Summary
पुराने समय में एक बार एक वृक्ष पर एक चिड़िया रहती थी | कुछ दिन के बाद उस चिड़िया के अंडे हुए | बच्चे होने के पश्चात एक बार कोई मस्त हाथी उस वृक्ष के टहनी के नीचे आया और उस वृक्ष की टहनी को अपने सूड़ से तोड़ दिया और फेंक दिया | जिस कारण से चिड़िया का घोंसला पृथ्वी पर गिर गया और चिड़िया के अंडे फूट गए |
तब वह चिड़िया बहुत दुखी हो गई और जोर-जोर से रोने लगी | उसकी रोने की आवाज को सुनकर दूसरा पक्षी जिसका नाम कास्टकूट था, वह उसके पास आया , और दुखी भाव से बोला- देवी ! तुम क्यों रो रही हो ? चिड़िया ने बताया कि देखो मेरे इस वृक्ष की टहनी पर अंडे थे और एक मस्त हाथी आया और उसने वृक्ष की टहनी को ही तोड़ डाला |
जिस कारण मेरे अंडे फूट गए | उसने मेरे बच्चों की हत्या कर दी है | अब उस हाथी की हत्या से ही मेरा दुख दूर होगा | काष्टकूट पक्षी ने उसकी सारी बातें सुनी और सुनने के बाद उसे वीनारवा नामक एक मक्खी के पास ले गया | फिर दोनों ने सारी बात उस मक्खी को बताई | फिर मक्खी ने कहा सुनो – मेरा एक मित्र मेंढक है जिसका नाम मेघनाद है | तो उसी के पास चलते हैं वह ही कुछ बताएगा कि हमें आगे क्या करना चाहिए |
फिर तीनों उस मेघनाद मेंढक के पास जाते हैं और सारी कहानी सुनाते हैं | मेघनाथ बोलता है- जैसा मैं बोलता हूं ,वैसा तुम लोग करो| मेघनाथ ने सबसे पहले मक्खी से कहा – तुम दोपहर के समय में उस हाथी के कान में जाकर गुनगुनाना | जिस कारण से वह आंखें बंद करके पड़ा रहेगा | तब कास्टकूट अपनी चोंच से उसकी आंखों को फोड़ देगा | और इस प्रकार हाथी अंधा हो जाएगा |
फिर उसे प्यास लगेगी और वह पानी के लिए तालाब की तरफ जाएगा | तालाब के रास्ते में एक बहुत बड़ा गड्ढा है , उसी गड्ढे के पास मैं खड़ा हो जाऊंगा और टर्र टर्र की आवाज निकालूंगा | आवाज को सुनकर हाथी को लगेगा कि यहां पर तालाब है | और वह उस गड्ढे को तालाब समझ कर गड्ढे की तरफ की तरफ आने लगेगा | जिस कारण से वह उस विशाल गड्ढे में गिर जाएगा और मर जाएगा |
और इस प्रकार किए जाने पर वह हाथी गड्ढे में गिर गया और मारा गया |
इसलिए कहा गया है अनेक निर्बल प्राणियों के संगठन को बहुत मुश्किल से जीता जा सकता है | अर्थात एकता में बल है | एकता दुर्जय है यानी एकता पर मुश्किल से विजय पाया जा सकता है |
English Summary
Class 7 Sanskrit Chapter 11: समवायो हि दुर्जय: In this lesson, we will read about the power of unity i.e indomitable. Unity can never be defeated easily, hence unity is miserable. So, let us read this lesson and see what is happening in the story.
In the olden times, a bird lived on a tree. After a few days, the bird had eggs. Then, a group of elephants came under that tree and broke the branch of that tree and threw it. Because of this, the bird's nest fell to the ground and the bird's eggs broke up.
Then the bird became very sad and started crying loudly. Listening to her crying, the other bird, whose name was WOODPECKER, came to her, and spoke sadly – Hello! Why are you crying? The bird explained that I had eggs on the branch of this tree and a great elephant came and broke the tree's twig.
Because of this, my eggs broke. He has killed my children. Now my grief will be removed from the killing of that elephant. The WOODPECKER bird heard all the things and after hearing, he took her to a flyer called Veenarva. Then both of them told the whole thing. Then the fly said, listen – I have my friend frog, whose name is Meghnad. If you go to him then he will only tell you what we should do next.
Then the three go to the Meghnad frog and tell the whole story. Meghnath speaks – as I speak, do you people like that? Meghnath first said to the fly – you hum in the ear of that elephant in the afternoon. Because of this, he will remain closed eyes. Then the WOODPECKER will crack his eyes with his beak. And thus, the elephant will be blinded.
Then he will feel thirsty and he will go towards the lake for water. There is a huge pit on the way to the pond, I will stand near the same pit and I will bring out the sound of the tar-tar-tar (frog sound/croaking). Hearing the voice, the elephant will think that there is a pond. And he will think that pit will come towards the side of the pit, like a pond. Because of this he will fall into that huge pit and die.
And when this was done, the elephant fell into the pit and was killed.
Therefore, it is said that the organization of many weak beings can be won very hard. That is the power of unity. Unity is miserable, that is, difficult conquest can be found in unity.
👍👍👍